In The HARVARD Effect Best-Selling Author John-Leslie Brown asks, "Why will the world be different because you were born?"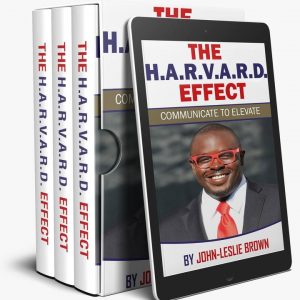 Under the tutelage of his legendary father, Les Brown, John-Leslie Brown began speaking at the aleatory age of 10, later becoming the highest paid speaker in America at age 14 and commanding audiences as large as 20,000.
 "In the HARVARD Effect you will gain a 100 year plan for your life!" Les Brown
By the time he reached his early twenties, John-Leslie began sharing the state with pioneers in business and entertainment such as The Dalai Lama, Richard Branson, T.D. Jakes, Gladys Knight, Bob Proctor, Berny Dohrman, Ice Cube, and Krs-One. Now in his early 30's John-Leslie has developed a unique ability to deliver passionate messages of inspiration which transcend cultural and generational boundaries.
"I have no words to describe the service you have rendered to the twelve Harvard Graduate and Profesional Schools' (HGPSG') and Harvard Extension Entrepreneurship Association' (HEEREA') mission. We are dedicated to sharing our highest gifts to the world; we are grateful you have come to us to share your highest gifts, gifts of wisdom man and knowledge. You genuinely inspired the entire community. This is truly a value-added for all." Dolly Amaya – Harvard Leadership Conference.
"You may have thought you've heard it all, but you haven't, until you've read the HARVARD Effect …" Farrah Gray, Self-Made Millionaire
About the Author John-Leslie Brown
John-Leslie Brown speaks internationally to groups of all ages, inspiring his audiences to reach higher and to expect more of themselves in the serious pursuit of goals that define a lifetime. His core original message is, "We must be more dedicated to our destinies than we are to our distractions."
Recently named one of the top 40 speakers under the age of 40 in America, John-Leslie Brown knows how to deliver every time. He focuses on the head and the heart and his infectious enthusiasm and vivid powers of description sweep along all those who hear him. The Los Angeles Clippers and Success Teens International awarded him the (HNAA) Humanitarian Neighborhood Alliance Award at the Staple Center specifically for his inspirational speaking work with young adults.
John-Leslie Brown has been speaking professionally since the age of 10 and he has not slowed down for more than two decades. His personal goal is to impact and to inspire a new generation of high achievers while remaining focused forward on building the family business which trains emerging leaders to use their unique voices as a force for greatness.
With the experience of presenting before corporate executives in sold out arenas with as many as 20,000 participants attending, John-Leslie Brown leaves his audience with more than just the necessary tools to compete and to win in a global economy—he leaves them inspired and hungry to achieve it!
Follow John-Leslie Brown on Social Media at:
Instagram.com/JohnLeslieBrown
Facebook.com/ItsNotOverUntilWeWin
Twitter.com/JohnLeslieBrown
Latest blog posts about John-Leslie Brown
Follow Author John-Leslie Brown at HarvardEffect.com for all of the latest.